We cover a variety of topics in the jewellery industry.
We cover a variety of topics in the jewellery  industry.
Why You Should Consider an Online Jewelry Platform:
Pros and Cons of Jewelry E-commerce
In the last decade, there's been an unprecedented push for businesses across all sectors to establish an online presence, and the jewelry industry is no exception. With the ongoing COVID-19 pandemic and subsequent lockdowns, an online platform is not just a boon but a necessity for jewelry stores. As per Forbes, nearly 80% of businesses have transitioned online, adapting to the pandemic's constraints.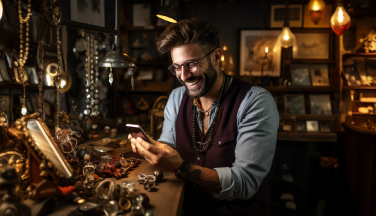 Why Now is the Perfect Time
With government-mandated lockdowns, non-essential services, including jewelry showrooms, stores, and public events, have been severely restricted. As a result, many jewelers have been forced to shift their focus to online platforms. Online sales have seen a steady increase since the early 2000s, and jewelry sales followed this trend with 22% of the accessories market being online in 2018. E-commerce has long been a gold mine, but now it also serves as a lifeline for many businesses, expanding their customer base and offering excellent ROI from a minimal investment.
Retailers' Concerns about Selling Online
Although the jewelry market has witnessed steady growth of over 8% per year since 2010, COVID-19 initially sparked fears that the industry would decline due to reduced disposable income and less frequent outings. However, contrary to these fears, online jewelry sales in the US alone hit a record high of nearly $8.4 Billion.
Despite this, selling jewelry online comes with its challenges. Jewelry is a luxury item, and customers need proof of its quality, especially when they can't physically touch or feel the product. Certification is crucial to winning customers' trust. Platforms like JewelCounter provide retailers with certified diamonds and hallmarking from the London Assay Office, maintaining the essential trust between retailer and consumer.
Another potential issue is that customers can easily compare and choose products across different platforms, often seeking the cheapest piece that meets their specifications. With customizable pieces, platforms like JewelCounter help retailers accommodate customers' budget restrictions.
Benefits of Online Jewelry Stores
1. Vast Selection: Online platforms offer a wide range of products, increasing the chances of selling multiple products or finding the one piece a customer desires.
2. Brand Value: Starting an online jewelry brand can create great value as most people now spend a significant portion of their day online, increasing the chance they'll come across your website.
3. Global Reach: An online store offers worldwide visibility and the opportunity to gain international recognition and customers.
4. 24/7 Availability: Unlike physical stores, eCommerce portals are available 24/7, allowing customers to view and order whenever they want.
5. Easy Promotions: Promoting your business online is easier and quicker than in-store promotions.
6. Lower Initial Investment: Unlike physical businesses, an online business requires less upfront investment, and you don't need to hold large quantities of physical stock.
7. Product Customization: Online jewelry stores offer customers the option to filter products based on metal, diamond, and price, enabling them to find exactly what they're looking for.
In conclusion, establishing an online jewelry store can be a lucrative endeavor despite its challenges. With thoughtful planning, attention to customer needs, and effective use of available platforms and tools, retailers can navigate this digital landscape successfully.